On August 26th, SSM (Zhongshan) Ltd. held a grand opening ceremony at the new plant in Sino-Swiss (European) Industrial Park. Mr. Beat Schmid, vice consul for Switzerland in Guangzhou, Mr. Davide Maccabruni, CEO of SSM, Mr. Hou Yibin, member of the Standing Committee of the Zhongshan Municipal Committee and secretary of CPC Torch Development Zone and CPC Tsuihang New District, Mr. He Hui, director of Tsuihang New District Administrative Committee, Mr. Xu Xing, director of SSIP Investment Promotion Office, attended the ceremony.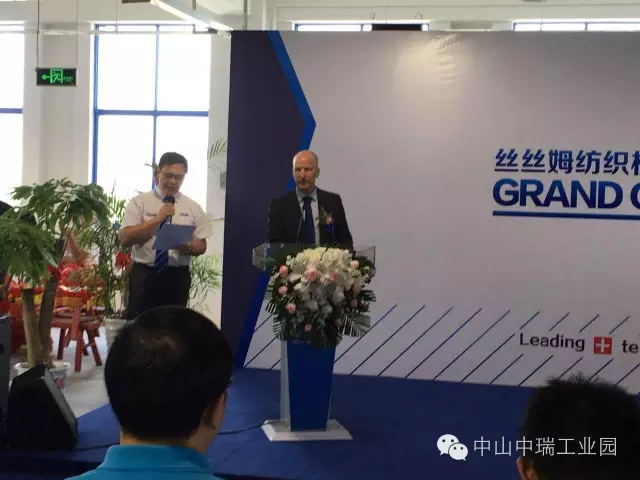 Mr. Beat Schmid, vice consul for Switzerland in Guangzhou was making a speech.
On the ceremony, the general manager of SSM (Zhongshan) Mr. Reinhard recalled SSM's settlement and development in Zhongshan and expressed his heartfelt thanks to Tsuihang New District's great support. Mr. Beat Schmid mentioned that China and Switzerland has established diplomatic relation for 66 years. China is Swiss third major trade partner in the world and first major trade partner in Asia. SSM's investment in Zhongshan is a good example of the economic cooperation between China and Switzerland. Mr. Hou Yibin said, being the first Swiss enterprise to enter SSIP, SSM will grow together with SSIP. He is confident in SSM's further development. In the future, SSIP will attract more and more Swiss enterprises and those from developed countries. It's going to be an ideal industrial park for internaitonal enconomic and technology cooperation with high-level industrial agglomeration and innovation ability.
SSM General Manager Reinhard showing around the factory.